Glebe End B&B
www.glebend.co.uk
Sheila & William Cole
Tel: 01629 640356.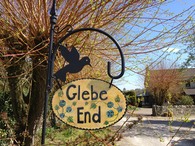 Breakfast is freshly prepared for you on our AGA and served in the private Garden Room with views over surrounding farm land.
The full English breakfast is cooked using only the best produce, locally sourced where possible. Homemade bread and preserves.
Firstly help yourself to a selection of starters while we bring you tea or coffee. Then be served with your choice from our hearty English breakfast menu selected by you the previous evening. Vegetarians are happily catered for, (please advise us on booking).
Guest Book Comments: 'Had a lovely time. Room lovely, breakfast top class, great location & best of all - great hospitality.....' A & S.